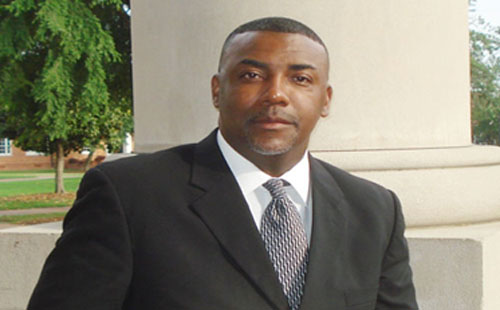 Dr. Jerry Corbett is the youngest son of Billy and Laura Corbett and has four siblings Rev. Garry Kerr, Billy M. Corbett, Rev. N. Jackie Alford, and Daphene C. Lane.
Corbett attended Sampson County Public Schools, and is a 1982 graduate of Union High School, Rose Hill, NC. Corbett is a Magna Cum Laude graduate of University of Mount Olive, Mount Olive, NC and holds a Bachelor of Science Degree in Religion. He is also a Cum Laude graduate of Virginia Union University School of Theology, Richmond, Virginia and earned a Master of Divinity. Corbett obtained a Doctor of Ministry Degree from Campbell University Divinity School, Buies Creek, North Carolina and entitled his Doctoral Dissertation Project, Reclaiming Young African American Males: Developing An Effective Male Mentoring Program in An African American Church Context. Corbett has completed a year long residency of Clinical Pastoral Education (CPE), having completed five units. He is an End of Life, Palliative Care Specialist earning that certificate at the University of South Carolina.
Corbett has been in ministry for 29 years and currently serves as pastor of Mount Anna Baptist Church Aiken, South Carolina. Before relocating to Aiken South Carolina, Corbett served as pastor of the Historic Pee Dee Union Baptist Church, Cheraw, South Carolina for 15 years. Corbett has also served two churches in North Carolina, he was the Pastor of Mount Sinai Baptist Church Wallace, NC for almost 9 years and Assistant Pastor of Poplar Grove Missionary Baptist Church Faison, NC for nearly 4 years. He is a community leader, has served on numerous boards and has launched many new ministries during his years in the ministry.
Corbett has served as a missionary in both Ethiopia East Africa, Kenya East Africa and Port-au-Prince, Haiti assisting earthquake victims. Corbett has done research in the area of Church History in Germany, Switzerland, and The Czech-Republic. He also is a Professor of Religion at The University of Mount Olive in Mount Olive, North Carolina. He is member of Omega Psi Phi Fraternity Incorporated, Alpha Beta Beta Chapter Hartsville, South Carolina.
Corbett resides in Aiken, South Carolina. Some of the things he enjoys are, reading non-fictions books, playing sports, and traveling.
Let us not be weary in doing good
for at the proper time we will reap a harvest if we do not give up.
Galatians 6:9
Sundays – 10:00 AM
Sunday School – 9:00 AM
Bible Study
Wednesdays – 12pm & 6pm
*Masks are optional*